We've been serving our customers with premier logistics and transportation services for over twenty years. Throughout that time, we've worked hard to establish meaningful relationships with our customers, because without those, our company isn't worth much. Never forget, Nimble is worth something because of YOU.
Unique service types offered
Hear what our current and previous customers have to say.
A note of recommendation for Brad Eldeen. We have used his services for over a decade, however not without frequent price comparisons. For the Seattle work (over 130 loads), Brad was consistently the fastest to produce the carriers and the most cost efficient.
They have pulled through with being able to get trucks dispatched for the equipment we need moved, even when we have given them short notice. Brad and his team understand what it takes to move our big, heavy and yes, even crazy loads.
We have done business with Brad Eldeen for several years. It has been refreshing to deal with a no-nonsense truck broker. Invoices are for the amount quoted; loads are booked and handled with unneeded calls or hassles.
We have done business with Brad Eldeen for several years. It has been refreshing to deal with a no-nonsense truck broker. Invoices are for the amount quoted; loads are booked and handled with unneeded calls or hassles.
Nimble, small yet mighty.
Nimble is the best transportation company in the Midwest, a place where hard work and creative solutions are championed. When you're working with Nimble you're getting the best care and top thinkers in the industry.
Nimble focuses on its customers, and values, as well as it's ability to provide niche and comprehensive transportation solutions for any load or freight. Our team here at Nimble believes in providing the best transportation services to each and every customer.
If you're in need of a reliable and efficient transportation company, look no further–reach out and contact Nimble today!

We use creative solutions
Transportation solutions that are made just for you and your load! Nimble crafts creative solutions for niche, out-of-the-box services.

We add value to all that we do
Nimble prides itself on adding value to each and every load-we understand the value of your time and freight.

We respect ourselves and others
Respect is a two-way road and we here at Nimble live by that. Respecting customers and ourselves since 2002.

Nimble is committed to doing our best every day with every customer and every load. Our dedication to our logistic services is unbeatable as a result of our 20+ years in the industry. No job is too big or small for Nimble.

We stand by our commitments
Life happens–and when it does Nimble is the first to admit it. We take accountability for our actions, whether those are successes or failures because that's the right thing to do. We believe that the daily struggle of life is real and how we approach it matters.

Nimble values honesty. We're honest with our pricing, our time frames if we think something will work or won't. We believe honesty is what has kept us running roads and delivering loads since 2002. By being transparent and honest, our customers trust us and our advice.
Types of trips we take (%)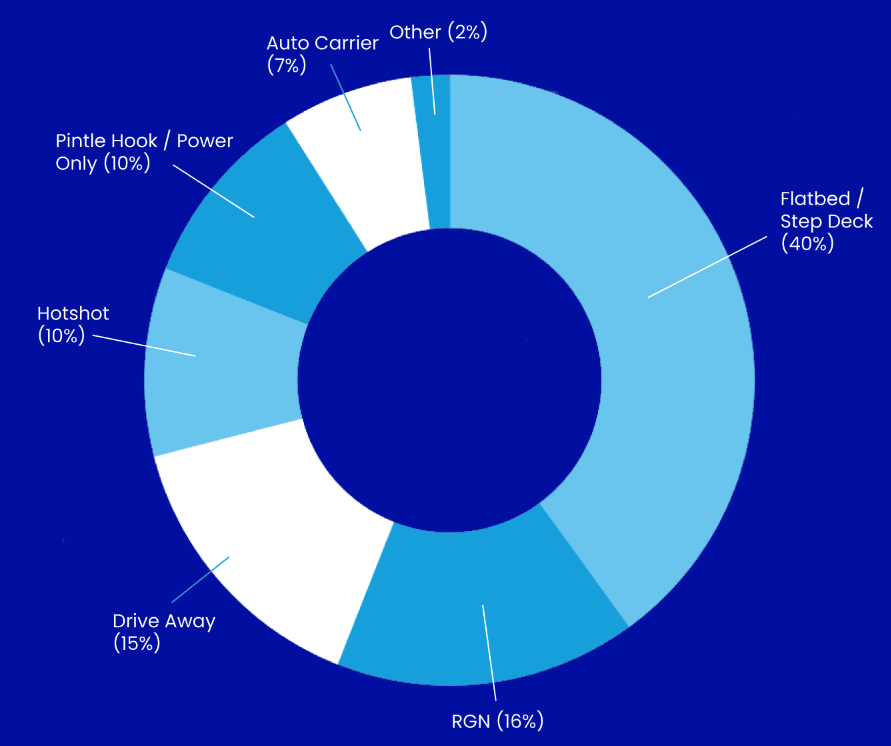 Top services powered by cutting-edge technology.
Nimble provides niche & timely transportation services in Iowa. We've been running roads & delivering roads since 2002.
Heavy hauling & truckloading
Heavy hauling includes freight jobs where the cargo is either overweight, oversized, or both! Nimble offers top-notch heavy haul services in the Midwest!
Nimble's power only services can't be beat! We provide the driver and you provide the freight. 
Drive away services is a niche service that Nimble offers to our customers, far & wide.
Nimble offers #1 auto carrier services in Iowa. No job is too big or too small.
Nimble is proud to offer top-notch Pintle Hook services to our customers. A niche service that Nimble has curated flawlessly. 
Nimble cares for its customers.
Nimble is looking for customers that trust our process and want things done efficiently and timely. In order to show our appreciation to them, we participate in yearly giveaways. Some of our past promotions can be found below, along with an exciting upcoming promotion that will take place next year. 
We proved we were the cooler option by giving away a ton of Yeti Coolers. We asked the question, do these coolers really store ice for 7 days? In this promo customers earned Yeti Roadie or Tundra 65!
We delivered the best through our DeWalt tool kit promo. Customers earned either a 2 tool set or a 7 piece tool set. There we no honey-do lists left undone this summer!
We delivered the fire! This promo asked the question are these smokeless fire pits really smokeless? Customers could opt for a Solo Bonfire or Yukon!
In 2023 we launch our next promo, have any thoughts on what it should be? Reach out to your Sales Representative to give your idea for the next promo!